Monday, Tuesday, Wednesday, Thursday, Friday -- 10:00 AM - 03:00 PM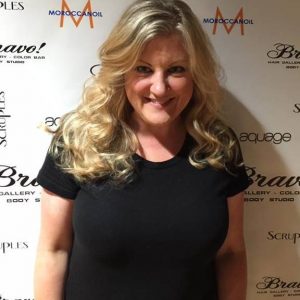 Dana Lundon (10am-3pm) I've been in radio since I was 18. I've done almost every format and have had the most fun in country radio. The artists are wonderful, the listeners are loyal. It's amazing. I'm married with one son and 4 cats: Booba Kitty, Sunny, Buffy/Baby Girl and Kiki. I love animals and have done my share of saving them. I love shopping and have been known to get shout outs from the hosts on QVC. (I was even a semi-finalist for a host position in 2004.)
23 Questions with Dana Lundon
1. When you're not at work, are you a morning person or a person that likes to stay up late? I used to be a night person, but I did 6 years on a morning show and had to get up at 2:30am. My body clock has stayed this way so I get up really early.
2. You're on the radio. What do you like about being on the air? Obviously, first for the music. I've wanted to be on the radio since I was 5. I also enjoy the interaction with our listeners. I enjoy making them happy and when they tell they enjoy our music and anything I say on the radio, it makes ME happy.
3. Where is your favorite place on Earth to visit? I have never been, but I'd love to visit Australia.
4. Who is your favorite country artist right now? Blake Shelton. He is very genuine and he has a great sense of humor and he loves country music.
5. Do you own a pet? If so, tell us about him or her. I have 4 cats: Booba Kitty, Sunny, Buffy and Kiki. They also have other nicknames and they know them all. Booba is mama's prince and he knows it. My son is Sunny's favorite human. Buffy is a bit skiddish, but she loves us and Kiki is the baby who enjoys getting into trouble. They're all rescues and I thinking rescuing animals is such a noble thing to do and believe everyone should adopt a rescue. You'll never feel anything better than the love of a rescued animal.
6. What is the best thing about country music? The Country Community. The artists love their fans. Country fans are loyal. The story telling in the songs and the fun in them, too.
7. What is your favorite charity or what causes do you think have the most value today? There are so many, but if I had unlimited finances, I'd give to St. Jude's, Pancreatic Cancer and I'd make it rain money on a bunch of no-kill animal shelters.
8. What is your favorite kind of food? Mexican and Italian. I've always loved Italian because I grew up in a heavily Italian area. I started trying Mexican food as an adult and love authentic Mexican.
9. What is your favorite social media site? Facebook. It's more personal than Twitter and I've really never gotten addicted to Instagram.
10. What is your favorite potato chip? Lay's Original. My husband works for Frito Lay, plus they've always been my favorite.
11. What gives you hope? Random acts of kindness and concern. There are so many stories that are out there and go unnoticed because we only see the bad ones.
12. Who is your favorite movie or TV star? Tom Hanks
13. What is the best advice you've ever gotten? Every payday, put 25% of it in your savings.
14. Do you believe in ghosts? Absolutely. We are made up of an energy that I don't believe goes away. I believe some souls get lost on their way to their afterworld and stay here either confused or in need of help.
15. Who is funny? Gabriel Iglesias (Fluffy), Kevin Hart, Bill Engvall, Larry the Cable Guy, Eddie Murphy, Chris Farley and Richard Pryor
16. What meal or food makes you think of your mom? Manicotti. My mom was not a very good cook, but this was one thing she made I loved. I would look forward to the one Sunday a month she would make this.
17. Who is someone you admire and why? I'd have to say my maternal aunt. No matter what, she tries to find the good in people. She always believes someone has a good reason of their own for doing the things they do. She always says that everyone has a back story that we don't know about.
18. Name three celebrities throughout time that you would like to have dinner with? Elvis, Donald Trump & Tom Hanks
19. How do you improve the lives of others around you? Just try to offer a smile and a hug when they need one. If they need help doing something, offer a hand when I can.
20. What is your favorite sound you've ever heard? My son, cracking up. All through his life.
21. Do you have a life philosophy you try to live by today? It takes so little to be kind. Give a smile anytime you can and you never know what you may do for someone having a bad day or a hard time.
22. Name three of your favorite movies? Ghostbusters, Beverly Hills Cop, Tombstone
23. If you could time travel, what time do you think you would like most to visit? Either 1955 or 2040. I want to see the simpler life of the 50's and hope that humanity is still intact in 20 years from now.